Sunday, June 02, 2013
Drugstore Beauty Finds Part 2
Beauty
I can easily spend a full hour in a drugstore searching for beauty products. While browsing Sephora or a department store is fun, I don't always have the disposable income to buy a basket full of goodies. Shopping at a drugstore lets me buy a lot more, and over the years I've discovered some hidden gems for both my hair and body. Here are some of my favorites: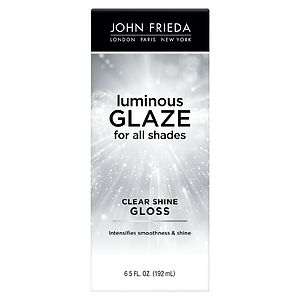 At the salon this weekend my stylist commented that my hair color hadn't faded a bit in nearly five months. I usually deepen my natural color a few shades, but have been using John Frieda Clear Shine Luminous Glaze for All Hair Shades on my hair. Once a week I coat my dry hair with the clear glaze, wait 20 minutes, and shampoo as usual. Perfect for non color-treated hair as well, this glaze will leave your hair like glass.
I have a love/hate relationship with hairspray. I love how it holds my 'do in place, but I hate crunchy hair that smells toxic. Herbal Essences Body Envy Volumizing Hairspray smells amazing, keeps curls in place, and leaves my hair soft.
It's hard for me to find affordable body oil that smells good and doesn't leave me feeling greasy. Neutrogena Body Oil, Light Sesame Formula
is my favorite drugstore body oil. The light, fresh fragrance lasts all day and leaves my skin feeling pampered after a bath or shower.
Drugstore nail polish is hit or miss. Sometimes my nails never fully dry or it turns goopy in the bottle right away.
Revlon Nail Enamel
comes in countless shades, dries quickly and my manicure stays for at least a week. My favorite shade is
Valentine
. It's a deep blood red that looks great on all skin tones.